MAGNUS CLONEKIT XL
Code:
352
Related products
Product detailed description
Magnus Clone kit XL is the perfect solution for growing your cuttings in one layer of four trays Magnus Clone Kit XL consists of three light bars 120cm and has a light range of 60x120cm. The linear beams are seeing a color spectrum to the needs of your crop and will surpass conventional fluorescent.
The most important features

High efficiency




Energy savings up to 75% compared to fluorescent lamp




One to one replacement of fluorescent lighting




Standard AC 85 ~ 245VAC, 50 / 60Hz




Efficiency 85%, PFC> 0.85




High efficiency 2.1 PPF / W




140 degree lens

Safety Design CE, LVD, EMC
more growth
10% more crop growth
Uniform, produces high-quality plant.
Long lifespan
30,000 hours lifetime
3 years warranty
We use high quality components so we can guarantee the highest quality. The lamp is made of aluminum which makes the lamp is very robust and heat can dissipate quickly, which is beneficial to the power of the LEDs. In the unlikely event a lamp still break down, we will provide a suitable solution. We give the consumer a 3 year warranty.


Specifications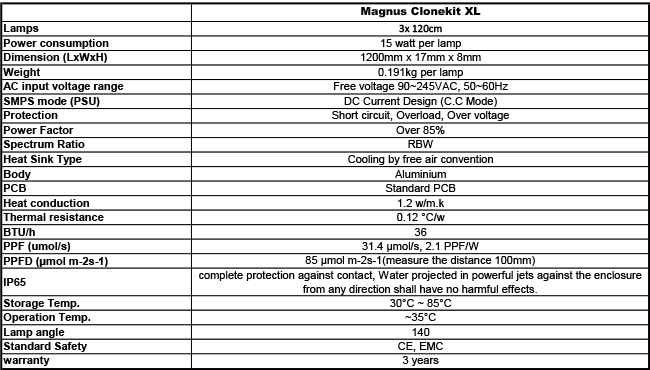 Magnus Plant kit spectrum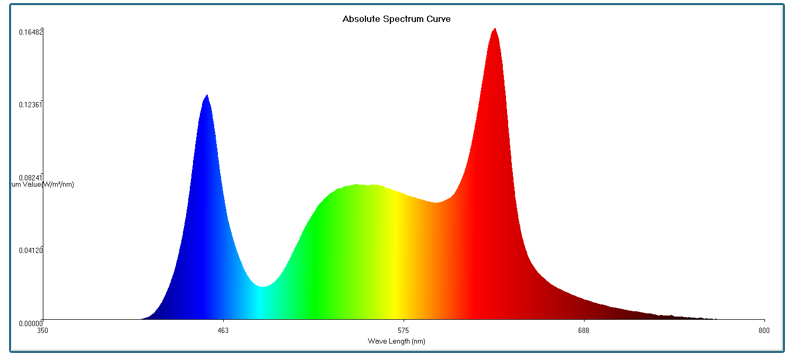 Be the first who will post an article to this item!
Only registered users may post articles. Please log in or register.
Be the first who will post an article to this item!