EasyGrow S1000 GrowSpec.
Code:
11211
Related products
Product detailed description
EasyGrow lights were designed for the professional and hobby growers, it uses the most modern and efficient technology.
EasyGrow lights also offer easy control mechanism via mobile app. Buy additionally an EasyGrow Controller and control temperature and humidity measurement and built-in timer with your smartphone, even hundred kilometers away from your light. You can manually adjust the light output 50-100% (using the dimmer built into the controller)
LEDs
Highly efficient SAMSUNG LM301B up to 230lm/w powered by Meanwell HLG series, provides minimum loss of power and long-life
Technical parameters:
Replace for: 1000w HPS
PPFD: 1855.3 µmol/(m²·s)
Veight: 12.5 kg
Distance from the plant: Grow 40-80cm/ Flower 40-60cm
Yields: 2-2.5 g/w
Recommended coverage: Flower 120x120 max. 150x150
Warranty: 5 years
Light size : 66x50 cm
Used chips: Samsung LM301B and Far red diods
Driver: Meanwell HLG
Light power: 0-530w
Luminosity: 200 Lm/w
Lifetime: 100 000h in operation
Power Adjustment: 50-100% (Only when purchasing EasyGrow controller)
Temperature and Humidity measurement / timer
The controller is not included. buy here
Light can be controlled via mobile app. Set the time when the light will switch on and off. Measure temperature and humidity through measuring probe and watch it comfortably on your phone. You can also switch the light on and off and browse all measured values, even when you are at the other side of the globe.
The lights are made in the European Union – We offer 3-year warranty period – In case of complaint, we will pick the light at your place for free and we will sent it back when repaired.
Packaging contains:
- Complete lighting EasyGrow plug (3m) EU, UK
- Complete hanging system
- Manual and guarantee card
-

Controller is NOT included
Buy an EasyGrow Controller and get more:
- Control wifi panel
- Humidity/temperature measuring probe
- Manual for connection to smartphone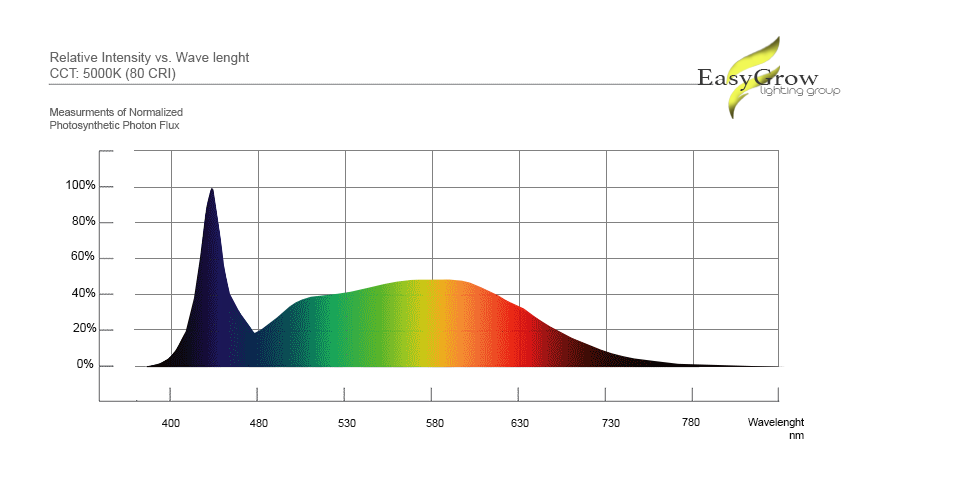 Grow spectrum 5000K
Grow spectrum Easygrow is designed for growing stage of plants, for seedlings and cultivation of all broadleaved plants and vegetables.
The spectrum is designed mostly to respect the growing stage of the plants and significantly shortens the cultivation time and helps plants to create stronger roots and healthier leaves.
PPFD CHART
height: 40cm
area: 1.5m x1.5m
Assembled and designed in the EU
Be the first who will post an article to this item!
Only registered users may post articles. Please log in or register.
Be the first who will post an article to this item!