EasyGrow S600 FullSpec.
EasyGrow lights were designed for the professional and hobby growers, it uses the most modern and efficient technology.
EasyGrow lights were designed for the professional and hobby growers, it uses the most modern and efficient technology.
LEDs
Highly efficient SAMSUNG LM301B up to 230lm/W powered by Meanwell HLG series, provides minimum loss of power and long-life.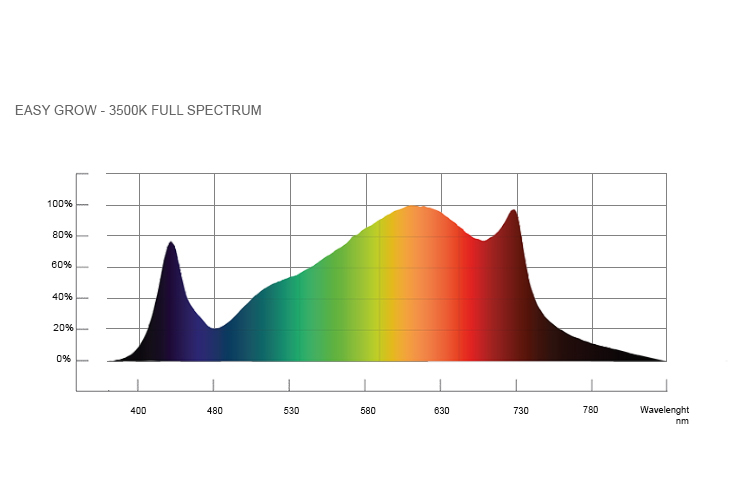 Full Spectrum 3500K
Designed for the full growth cycle of plants. During the manufacture, we considered the ideal values of the spectrum suitable for small seedlings, as well as the final flower stage.
EG-S600 components:
Driver: Meanwell HLG PRO Series

Used chips:
Samsung LM301B

Epistar FarRed diodes

Adjustable power: YES (power can be controlled only through the dimmer built in the driver in the range of 50-100% - can not be set using the mobile application)
Recommended coverage:
Grow: 90x90cm (3'x3')

Flower: 120x120cm (4'x4')
Distance from the plant:
Seedling: 60 cm (23")

Grow: 40-60 cm (16"x 23")

Flower: 30-40 cm (12"x16")
PPFD CHART
Packaging contains:
Complete lighting EasyGrow plug (3m) EU, UK
Complete hanging system

Manual and guarantee card
The lights are assembled and designed in the European Union. In case of complaint, we will pick the light at your place for free and we will sent it back when repaired.
Additional parameters
Category

:

EasyGrow LED lights
Warranty

:

5 years
Type of light spectrum

:

Full Spectrum
Draw power

:

Up to 300 watt
Replace for

:

600W HPS
Light power

:

250W
PPFD

:

1075.60168 umol/(m2·s)
Yields

:

2-2.5 g/W
Weight

:

3,8 kg
Light size

:

63,3 x 19,5 x 6 cm
Luminosity

:

max. 228.99 lm/W
Lifetime

:

100 000h in operation
P
Peter
Works perfect after 4 years of use.
RC
Rob Cushing
Excellent light & build quality for the price. We will see how long she lasts? Disappointed that it was advertised in stock but took 2 months to reach the uk..?
E
Erik
At first, when reading specs, I was certain "PPFD is blown up ... ohoho !" Install it just now ... OHOHO !!! How long its gonna hold this outstanding power we are yet to see. But now I regret not buying V2 series. Amazing light !
FB
FABIO BATISTA
I'm very impressed with the result so far. Light is absolutely incredible and definitely a top item if you looking for small budget light. Definitely worth the money. Obrigado LedGrowShop
Φ
Φωτης
Fast and discreet delivery!!Excelent product!!
DD
Diego Die
lampada perfetta e darei 5 stelle se la tracciabilità del pacco avesse funzionato a dovere e il servizio clienti ,non proprio dei migliori. sicuramente sarà stato dovuto hai problemi del covid 19 a limitare le mail ma ho trovato davvero difficile parlare col venditore e ricevere una risposta a quello che ho chiesto . comunque tutto arrivato imballaggio perfetto che ha permesso di arrivare intatta e funziona benissimo. Io consiglio questa lampada è perfetta. grazie easy grow perfect lamp and I would give 5 stars if the traceability of the package had worked properly and the customer service, not really the best. surely it was due to you have problems with covid 19 to limit the emails but I found it really difficult to speak with the seller and receive an answer to what I asked. however everything arrived perfect packaging that allowed to arrive intact and works very well. I recommend this lamp is perfect. thanks easy grow
IS
Isak Selik
Very happy with my new LED EG S600 FullSpec.Fast Delivery and safe packaging.Thanks EG!
EK
Eric Knapp
Product arrived quickly and Packaging was very sufficient to protect this sleek little board. The plants seem to be loving the FullSpec and increased PAR. I will be starting a diary soon to show results on grow diaries @starphish. Thanks EasyGrow!
S
Simon
Really happy with product and service. Customer service was very helpful and friendly to help me pick the right lamp for me. Manual operation is available, but I decided to order the controller afterwards as well. Works great, and the team was super helpful to help me set it up myself! Satisfied customer.
M
Mounty
I must agree with Marios P. I am not a 'Techi', simple plug and play for me, please. To the Lamp itself: Very good quality products used. Meanwell trafo, Samsung LED's, looks like the business side (Bottom) has been painted to make it waterproof. I will not be testing the H2O Proofness, 65% Air Moisture is my max. and the Lamp must withstand this. Quality of build/workmanship: Not sure how the Curier handled the package, but as I opened it, the Trafo attached to the top of the heatsink, aswell as the output cable from trafo, were loose: The threaded insert that holds the trafo to the heatsink had come loose. FIX: A drop of LocTite glue (for metal/406) and a 1/4 turn of the screw and it was tight. I also installed a new cable tie around the output cable. I think if the Lamp had a 'Proper'box, forfitting, this might not have happened.... Had absolutely no negative effects on the function. Just annoying, being a brand new product. No, I did not send it back for repairs... If I can do the rep. myself....
MP
Marios parparinos
Really satisfied... The only issues is the WI fi option only. Manual operation should be a must
Related products