OPTIC 2 Gen4 200w Dimmable COB LED Grow Light
Code:
13847
Related products
Product detailed description
The Optic 2 Gen4 by Optic LED features white-light technology via 2 x CREE CXB3590 chip-on-board arrays. Supplemental Cree and Samsung diodes surround each COB to further enhance the spectrum and increase intensity. Secondary lenses surround each COB and LED to further increase intensity.
Optic LED's spectrum ranges from 380nm to 780nm, covering the entire PAR spectrum + UV-A and near-infrared (far red). The additional green light helps increase photosynthesis deep in the leaves and inside the canopy. Far-red light, when combined with red light, has been proven to increase the rate of photosynthesis.
The Optic 2 offers dually dimmable grow channels - COBs and the bloom enhancers. Turn both channels on for maximum light intensity during flower.
Coverage Footprint:
Flower
Grow

60cm x 90cm (2' x 3')

90cm x 90cm (3' x 3')
75cm x 75cm (

2.5' x 2.5')

90cm x 120cm (3' x 4')
60cm x 120cm (

2

' x 4')

120cm x 120cm (4

' x 4')
Hanging Height :
?
Flower:
56-76cm (22
"-30")
PAR Output for 60cm x 90cm (2'x3')
PPFD - 38cm (15") Hanging Height
PPFD - 61cm (24") Hanging Height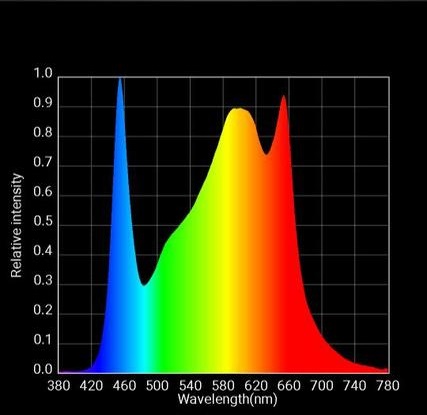 Full Spectrum White Light 3500k (Mixed White Light LEDs) + 660nm Deep RED + 450nm Royal Blue + Ultra Violet & Infrared
Bloom Enhancers:
? 8 x CREE XPE 660 nm Deep Red LEDs
? 4 x CREE XPE 460nm Royal Blue LEDs
? 72 pcs Samsung LM301H 3500k
? 1 x Ultra Violet LEDs (Dim Purple LED)
? 1 x Infrared LEDs (Dim Red LED)
Optics:
? CREE CXB3590 COBs: 120 Degree Wide Beam Glass Lens
? Samsung LM301H LEDS: 120 Degree Wide Beam Primary & Secondary Lens
? CREE XPE LEDs: 120 Degree Primary & Secondary Wide Beam Lens
Additional parameters
Category

:

Optic 2 Gen4 by Optic LED
Warranty

:

10 years
Coverage area

:

> 90x90cm, > 90x120cm, > 120x120cm
Replacement for

:

400w HPS

?

What do you prefer?

:

Energy saving, High quality lights
Stage

:

Flower & Grow
Controller Ports

:

Included
Cooling

:

Fan Cooled - 2 Cooling Fans
Dimensions

:

45x23x10cm (18"x 9"x 4")
Dimming

:

1 Dimmer Controls all the bloom enhancers, 1 Dimmer Controls the 2 COBs together
Driver

:

2x Meanwell Dimmable 200W Drivers
Efficacy

:

2.33 umols/J
LEDs/ COB

:

264 Total LEDs , 2 CREE Xlamp CXB3590 top bin
Lifetime

:

100000 Hrs
Max Power

:

200W
Spectrum

:

3500K
Weight

:

7 Kg
Yield

:

up to 2.4 g/W
The item has been sold out…
Be the first who will post an article to this item!
Only registered users may post articles. Please log in or register.
Be the first who will post an article to this item!